M80II PRODUCT SAFETY RECALL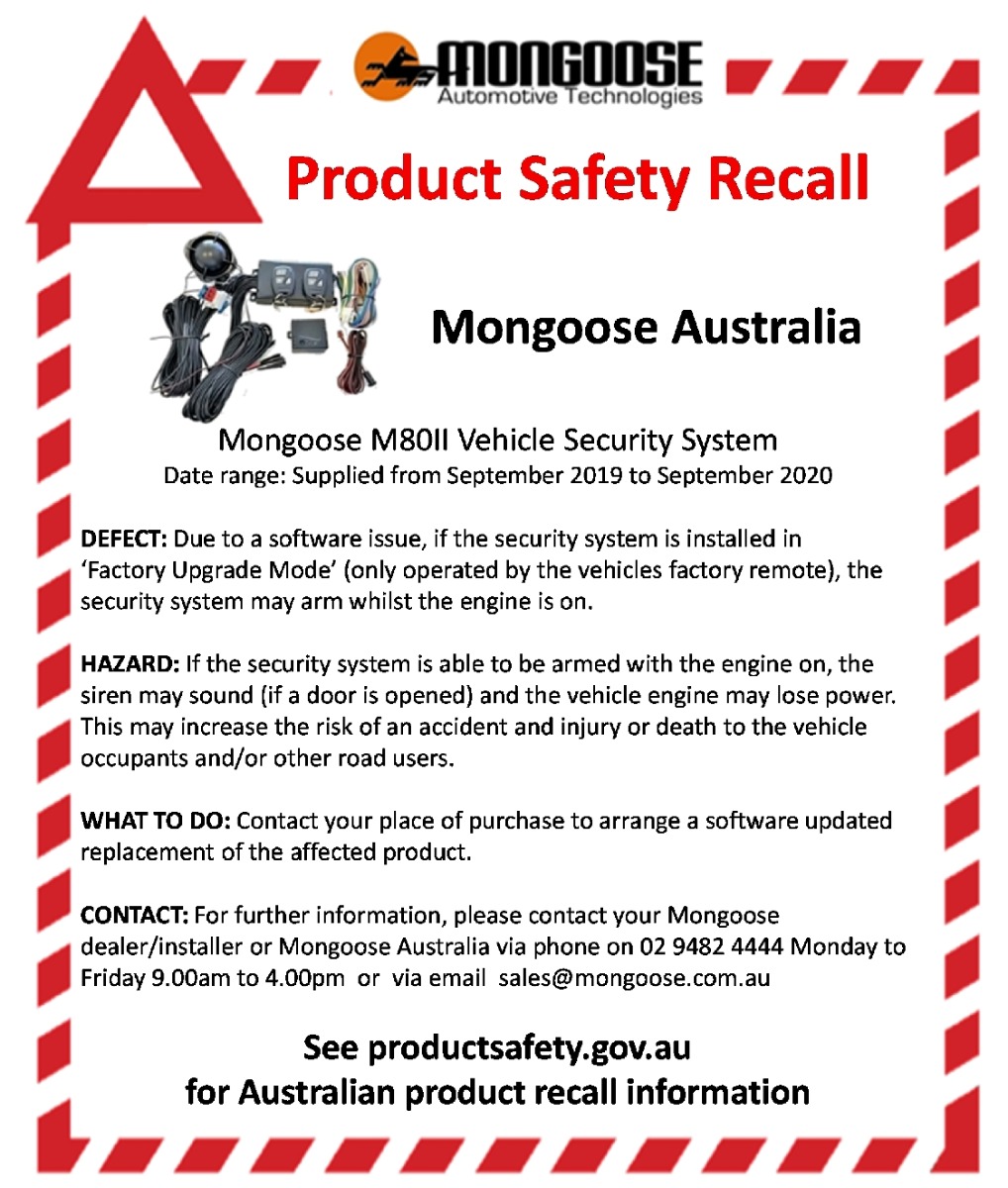 Mongoose is issuing a product recall for a software update for all Mongoose M80II vehicle security models purchased between September 2019 and September 2020.
This software recall is to enable us to update the security systems software.
THIS ONLY APPLIES TO MODELS THAT ARE INSTALLED TO OPERATE FROM THE VEHICLE MANUFACTURERS REMOTE CONTROL.
If your M80II is operated by the Mongoose supplied remote controls, then this software update is not required*.
In models that do require the update, there is a potential safety risk, but is considered very low risk.
We have found that it is possible to ARM the alarm system by a combination of INDICATOR FLASH and DOOR lock signals when IGNITION is ON.
If the alarm arms when the vehicle is being driven, there is the potential risk of the engine stopping which may cause an accident, vehicle damage and/or personal injury.
This does depend on the vehicle type and how the alarm was installed and configured.
* There is absolutely no risk when installed and operated by using the Mongoose remotes as the controlling device.
Mongoose prides itself in providing products that meet and exceed customers and Standards requirements and expectations, hence this update recall to ensure our customers are safe and secure.
We have a simple solution...................An alarm system software update completely eliminates the risk !
The Mongoose agent who supplied and fitted your security system should have contacted you to arrange a suitable date and time for this update.
It's just a matter of visiting your Mongoose agent on the arranged date for an updated alarm module to be exchanged for the one currently fitted.
This should only take about 30 minutes or so and there is no cost to you for this update.
When visiting your Mongoose agent, please have available both original Mongoose remotes and the security pin code card.
If you have not heard from the installing Mongoose agent, please contact them to arrange for this exchange to take place.
If you have any questions or concerns, or to arrange for an alternative agent, please call us - details under 'CONTACT'
We appreciate your assistance in this matter.
Published 21st September 2020